WaterSaver gooseneck water fixtures are available with a choice of three types of gooseneck construction. Each type of construction has its own advantages; lab designers and users can thus choose the type of gooseneck best suited to their particular application.
Goosenecks are fabricated of heavy wall brass tubing, with a minimum wall thickness of .085″. Goosenecks will therefore resist bending and stand up to even the most demanding lab conditions.
Atmospheric vacuum breakers are specially designed for laboratory use. As such, they are resistant to spillage even under very low flow conditions. Vacuum breakers are covered by U.S. patent number 6,123,095.
Rigid Construction (RG Series)
Gooseneck is threaded directly into top of faucet body.
Gooseneck is held absolutely rigid and cannot be turned. This type of construction is advantageous at cup sinks where the faucet outlet should be directed over the sink at all times.
Faucets may be ordered with gooseneck positioned as right hand, left hand or 180 degrees. If not specified, right hand position will be furnished.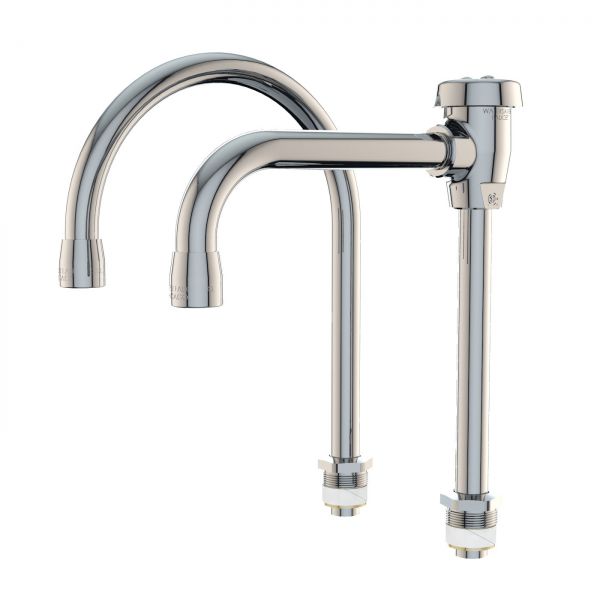 Swing Construction (SG Series)
Gooseneck is furnished with a braided PTFE packing and adjustable packing nut.
PTFE packing allows gooseneck to turn very smoothly while providing a solid connection to the faucet body, with no lateral play or movement.
Adjustable packing nut may be tightened down to compensate for wear that might occur in the packing. Unlike goosenecks with O rings, there are no components that will ever require replacement.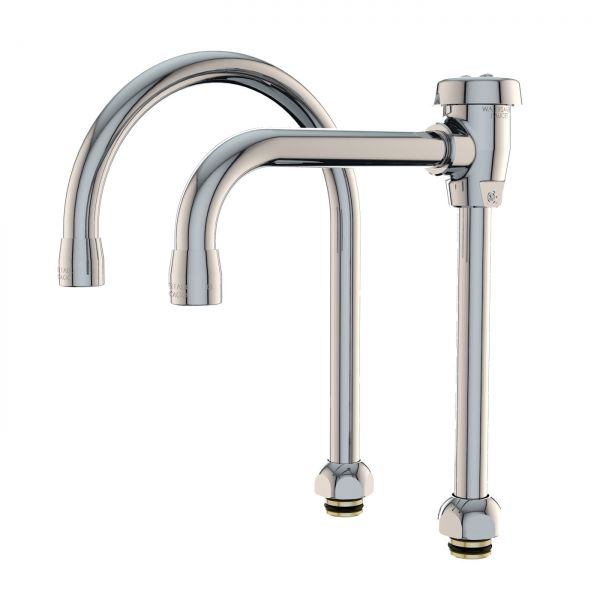 Rigid / Swing Construction (RS Series)
Gooseneck has union-style construction with union nut and two O ring seals.
Faucets with rigid / swing goosenecks may be installed in the field with either rigid or swing configuration. Two spacers are furnished with each gooseneck. For rigid construction, the brass spacer is installed. For swing construction, the nylon spacer is installed. Faucets may be readily converted from rigid to swing and vice versa.
Union-style construction facilitates changing goosenecks in the field, should a different spread or height be desired. Simply loosen union nut, remove the gooseneck and install the replacement gooseneck.